"Notre Dame" German premiere on 1 December at Cinema Paris
On 1 December 2021, the fabulous comedy "Notre Dame" will celebrate its German premiere as part of the French Film Week at Cinema Paris in Berlin. In the film, director Valérie Donzelli ("Declaration of War") also slips into the leading role of a single mother and Parisian architect between career, family and great love! She mixes the romantic turbulence with unrealistic outliers à la "Amélie" and charming wit.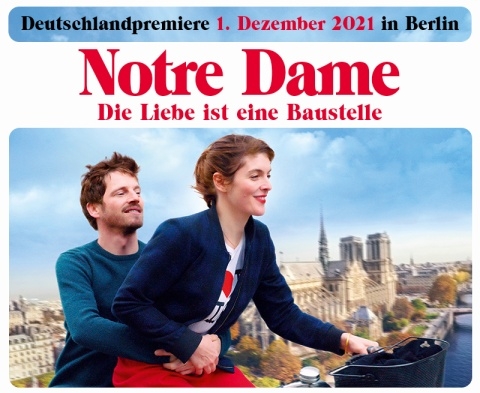 Film Content
O mon Dieu! The lively Parisian architect Maud doesn't know where her head is anymore: Her boss picks on her all the time, her ex regularly besieges her bed and, oops, now she's pregnant. So it is both a blessing and a curse that Maud magically wins the most coveted tender in town: she gets to redesign the historic forecourt of Notre Dame. Will she manage to keep her cool amidst the press hype, love-crazed men and the eccentric mayor?
Further Links