Successful cinema premiere of "Youth Outcry"
With "Youth Outcry", Berlin director Kathrin Pitterling is bringing a breath of fresh air to the climate discourse, just in time for the climate conference. On 28 October 2021, she presented the award-winning ARD production as a director's cut exclusively at Kino International. In her documentary, she lets us get up close to the young activists and accompanies them in their fight for our environment. For a subsequent film discussion with film critic Rüdiger Suchsland, Luisa Neubauer and the protagonists were broadcast live from London.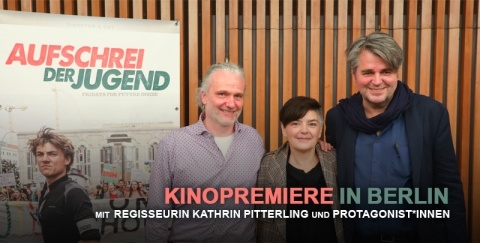 Over 400 people in the International Cinema
Kathrin Pitterling concluded with a touching speech thanking all those involved in her heartfelt project in front of an audience of around 400. Luisa Neubauer's inspiring call for climate protection provided the perfect conclusion to the evening. She equated the global climate crisis with a global empathy crisis that can only be overcome if all people meet on an equal footing and realise what devastating effects their own behaviour can have on people all over the world. 
Further links and downloads