12/02/2021
Online premiere of "The Naked King" with 1,000 viewers
Despite lockdown, "The Naked King – 18 Fragments on Revolution" successfully celebrated its cinema premiere on 10 February 2021 as a free online event. The exciting film essay about the renewing power of revolutions strikes a chord in the current Corona crisis. This was demonstrated by the participation of more than 1,000 viewers, who were also able to take part in the subsequent live discussion with director Andreas Hoessli and historian Prof. Frank Bösch from the Leibniz Centre for Contemporary History Research via chat function. The moderator was Barbara Lux from the Altes Kino Ebersberg, which realised the event together with the film distributor W-film from Cologne.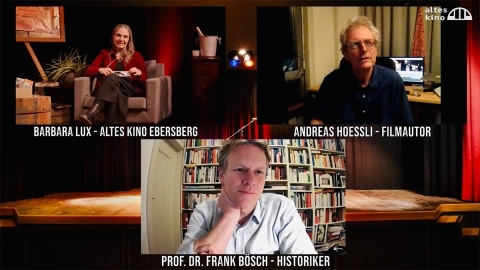 Successful online premiere of "The Naked King – 18 Fragments on Revolution" with director Andreas Hoessli, historian Prof. Frank Bösch and around 1,000 viewers in the live stream!

"The Naked King" from 11 February in the W-film Online Cinema
Just in time for the 42nd anniversary of the Islamic Revolution in Iran, "The Naked King" will be launched digitally on 11 February 2021, and also due to Corona in the W-film Online Cinema at: shop.koenig.wfilm.de. The online launch will take place in cooperation with 20 local cinemas, which will co-promote the film and receive a solidarity share of the revenue from W-film. Other supporters are Leibniz Centre Potsdam, Friedensbildungswerk Cologne, Polish Institute Berlin and Haus des Dokumentarfilms Stuttgart.
A Magical Journey into the Heart of the Revolution
The world is in turmoil! Everywhere people are protesting for democratic freedom and human rights – but where is the tipping point from protest to revolution? In his documentary film "The Naked King – 18 Fragments on Revolution", director Andreas Hoessli traces precisely this question. His film essay is a magical journey into the heart of the 1979 Islamic Revolution in Iran and the 1980 Solidarność movement in Poland. What happened in the minds of the young women and men who took part in the revolutions back then? Bruno Ganz leads through the film as narrator. Awarded the main prize at DOK.fest Munich in the "DOK.international Main Competition" series.
Further links and downloads
Back to news