26/04/2021
Premiere of "The Fever" with over 1,500 viewers
The cinema documentary "The Fever: The Fight Against Malaria" celebrated its successful online cinema premiere on Sunday, 25 April on World Malaria Day with more than 1,500 viewers! As of today, the film is available as a stream exclusively in the W-film online cinema via http://thefever.wfilm.de/en. A good cause: Locked cinemas that co-promote the online launch will receive a share of the revenue from W-film! As soon as the lockdown ends, "The Fever" will also be shown in cinemas nationwide.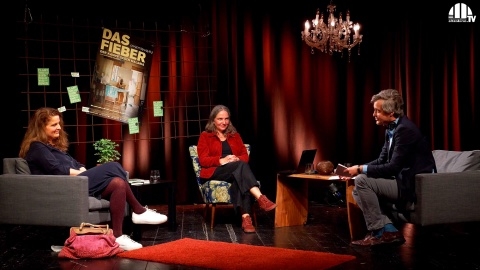 Picture, from left: Online cinema premiere of "The Fever: The Fight Against Malaria" with director Katharina Weingartner, Barbara Lux from the Altes Kino Ebersberg and presenter Peter Kreysler. © W-film
Review of the online cinema premiere "The Fever"
The event was broadcast live from the Alte Kino Ebersberg. The film stream (English, German, French, audio description) and the live talk with experts were free of charge for audiences worldwide. Numerous enthusiastic viewers also took part in the chat afterwards by asking the experts questions.
"The Fever" shows how researchers in East Africa may be saving countless lives from malaria with the medicinal plant Artemisia annua. But why do they encounter fierce resistance from pharmaceutical companies in their search for local solutions? In the subsequent live talk, moderator Peter Kreysler discussed the controversial question of the film with director Katharina Weingartner and prominent experts, who were called in. Among them was Dr. Grace Nambatya Kyeyune from the Ministry of Health in Uganda, who as a researcher in her country has contributed significantly to the recognition of herbal medicine. Other special guests were Prof. Peter Seeberger from the Max Planck Institute of Colloids and Interfaces, who is currently researching Artemisia against Covid-19, as well as Dr. Tankred Stöbe from Doctors without Borders and Dr. Anselm Schneider from the German Society for International Cooperation. At the end, the charismatic film protagonist Rehema Namyalo surprised the premiere audience with a greeting video from Uganda.
Further links
Back to news