19/07/2021
Cinema release of "The Sunlit Night" on 23 September 2021
Successful "Wetlands" director David Wnendt goes Hollywood! His light-footed, playful film adaptation of Rebecca Dinerstein Knight's novel of the same name, "The Sunlit Night", will gild the cinema autumn from 23 September 2021. International stars gather in front of the camera: Jenny Slate ("Venom") searches for her personal meaning in life alongside Alex Sharp ("To the Bone"), Zach Galifianakis ("Hangover") and Golden Globe winner Gillian Anderson ("The Crown") in the Norwegian Lofoten Islands – and finds love.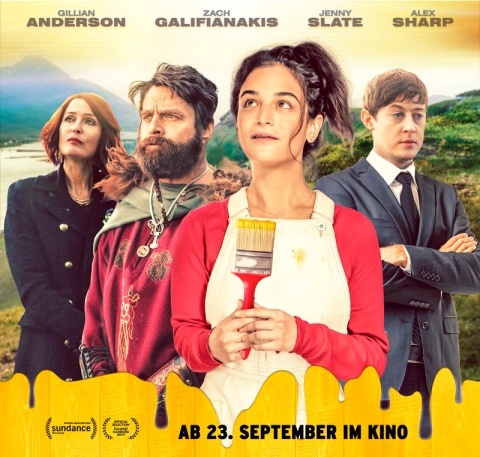 More about David Wnendt's warm-hearted dramedy "The Sunlit Night"
Could a summer get off to a more disastrous start? Artist Frances' planned project falls through, her boyfriend breaks up with her, and while her younger sister blissfully celebrates her engagement, their parents announce the end of their marriage. Frustrated, Frances accepts an art scholarship in Norway without further ado and leaves the confines of New York for the remote, barren Lofoten Islands, where the sun never sets. But new challenges await her in front of the mystical panorama: She must toil with a grumpy artist for a boss, encounters eccentric Vikings and stumbles upon a grieving bachelor.
Further Links
Back to news