10/09/2021
David Wnendt presents "The Sunlit Night" at its German premiere
A wonderful evening at the German premiere of "The Sunlit Night": Director David Wnendt personally introduced his new feature film to the audience at the Eva-Lichtspiele in Berlin on 8 September! In the unique atmosphere of the 110-year-old cinema, he and producer Fabian Gasmia from Detailfilm were bombarded with questions about Hollywood stars, the icy Norwegian sea as well as their new joint film project "Sun and Concrete", the film adaptation of the novel of the same name by stand-up comedian Felix Lobrecht. The film discussion was moderated by cinema operator Maria Marchetta.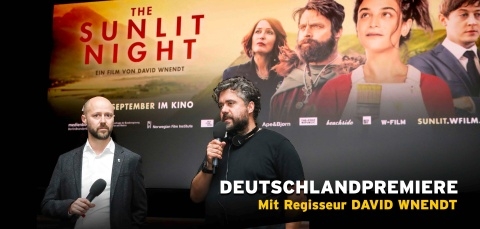 "The Sunlit Night" gilds the cinema autumn nationwide from 23 September 
The warm-hearted dramedy takes us to the remote Lofoten Islands. There, Jenny Slate ("Venom") searches for her personal meaning in life as an artist in crisis alongside Alex Sharp ("To the Bone"), Zach Galifianakis ("Hangover") and two-time Golden Globe winner Gillian Anderson ("The Crown") – and finds love.
Further Links and Downloads
Back to news