20/04/2023
Lost Transport: sold-out premiere in Aachen
An auspicious start: On April 19, the gripping war drama "Lost Transport" celebrated its premiere in the presence of the film team at the sold-out Apollo Kino in Aachen.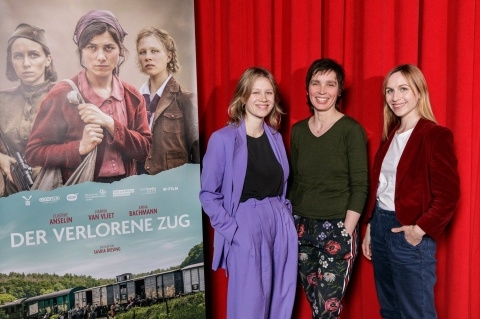 Before the projection, Sibylle Keupen, Lord Mayor of Aachen, and Heinrich Brötz, Head of the Department of Culture of the City of Aachen, addressed the audience: In view of the war in Ukraine, they emphasized the topicality of the film, which is a plea for humanity, and highlighted the unusual female perspective.
In the subsequent film discussion with moderator and theater director Sven Ollig, director Saskia Diesing revealed to the visibly moved audience the challenges of the script-writing process and the background to the fundamental decision to shoot the film in three languages (Dutch, German, Russian). The actresses Anna Bachmann and Eugénie Anselin shared anecdotes about their casting and emphasized how important empathy and care are in our times.
Back to news