03/07/2023
Filmfest Munich: "More than Strangers" wins Promotional Award
Director Sylvie Michel received the Förderpreis Neues Deutsches Kino "Directing" for her road movie "More than Strangers" at the Filmfest München.
The jury's statement: "A chamber play, a microcosm. In the smallest space, this production gives us a humorous insight into the small and large human tragedies. They say the way is the goal. But sometimes it is the detour."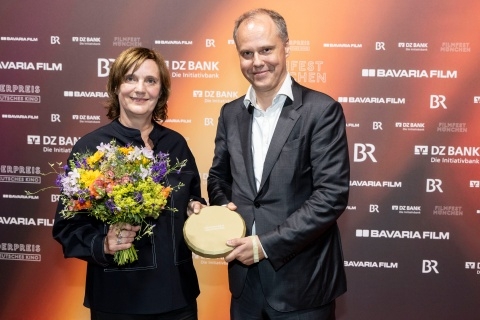 The New German Cinema Award 2023 is sponsored by Bavaria Film, Bayerischer Rundfunk and DZ Bank. It honors outstanding performances by emerging talent in the feature films in the New German Cinema series at Filmfest München.
"More than Strangers" opens in theaters nationwide in 2024.
Content
Five strangers from different nationalities share a ride from Berlin to Paris via car sharing and all have only one thing in common: to get to their destination easily and cheaply. When it turns out that one passenger has a serious problem that could get them all into trouble, the trip gets a little more complicated. Yet he asks for nothing more than a little understanding and support from his fellow passengers. But it doesn't help that they are at least as chaotic and helpless, and can't trust him to boot. For he, of all people, who asks for help, keeps giving dubious explanations. A very peculiar group dynamic develops, the atmosphere in the confines of the car resembles a boiling pot. But everyone has their goal in mind, the journey must go on - how, now depends on them!
Back to news