16/09/2021
Filmkunstmesse Leipzig shows "Windstill"
W-film presents "Windstill" before its official theatrical release on 11 November at the Filmkunstmesse Leipzig 2021! According to the Süddeutsche Zeitung, Nancy Camaldo's outstanding feature film debut is "a mature achievement in every respect." Against the picturesque backdrop of her native South Tyrol, the filmmaker, who is only 29 years old, unfolds a touching drama that reflects the longings and fears of an entire generation. One of the most exciting new cinematic discoveries of young German cinema, "Windstill" celebrated its world premiere at the 2021 Max Ophüls Preis Film Festival, where Giulia Goldammer and Thomas Schubert were also nominated for "Best Young Actor". Another nomination for "Best Supporting Actress" went to Barbara Krzoska at the German Acting Award.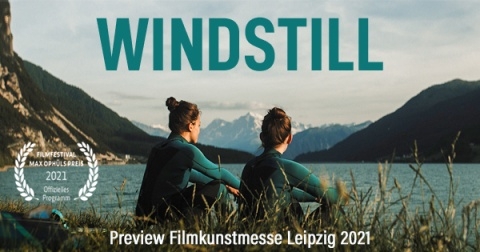 Preview Dates at the Filmkunstmesse Leipzig:
Tues. 21.09. | 12:30 | Passage Kinos, Casino | Hainstraße 19a
Wed. 22.09. | 15:00 | Schauburg, Saal 2 | Brühl 48
(Only for trade visitors with accreditation)
Synopsis
High summer and stifling heat in Germany: Lara (Giulia Goldammer) takes care of her one-year-old daughter, while her boyfriend Jacob (Thomas Schubert) slaves away as a cook. Everyday life is exhausting and a haze of frustration hangs over the couple. Recognition, whether in the relationship or at work, is lacking. One day, Lara wordlessly leaves the baby with Jacob and breaks out of the routine. She flees to her home in South Tyrol, where her estranged sister Ida (Barbara Krzoska) maintains her late parents' farm with a temp. But Lara's unexpected appearance opens up old wounds and disturbs the fragile peace. Can the sisters find their way back to each other and rewrite their life plans?
Further Links and Downloads
Back to news