01/04/2022
"LAND OF DREAMS": MUNICH PREVIEW OF THE EXHIBITION BY SHIRIN NESHAT
On 6 April at 8pm, City Kinos in Munich will show an exclusive preview of the American-German feature film "Land of Dreams" in the original English version. The film will be followed by a discussion with director Shirin Neshat ("Women Without Men") and co-director Shoja Azari. The preview is organised in cooperation with Kino der Kunst and the Pinakothek der Moderne on the occasion of the exhibition "Shirin Neshat: Living in One Land – Dreaming in Another". 
"Land of Dreams" opens in cinemas nationwide on 3 November 2022. In her satirical feature film, which premiered last year at the Venice Film Festival, Shirin Neshat takes a critical look at American culture – with a prominent cast! Sheila Vand, Matt Dillon, Isabella Rossellini and Anna Gunn shine in the leading roles, among others.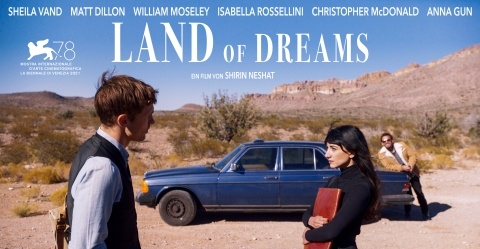 FILM CONTENT
The United States in a near future: with its borders sealed off, the authoritarian government has embarked on a comprehensive programme to control its citizens. The Census Bureau – the most important government agency – tries to better understand the population in order to manipulate them by recording their dreams. Simin, a young woman with Iranian roots, also works as a logger or so-called dream catcher. With the cynical bodyguard Alan at her side, she drives through the Midwest and collects the sometimes bizarre dreams of people, which often contain bitter truths. Simin compensates for these experiences and her traumas as a migrant by slipping into the roles of the dreamers on social media and reenacting them in Farsi. Soon, however, she also suspects the perfidious intentions of the Census Bureau.
FURTHER LINKS
Back to news