31/07/2023
"Lipstick on the Glass": Sold out world premiere
"Lipstick on the Glass" had a fabulous world premiere on July 26 as part of the "Midnight Madness" series of the 23rd Nowe Horyzonty Film Festival in Wroclaw! Over five hundred visitors* saw the new work of director Kuba Czekaj. His feature film is a wild ride across genre and gender boundaries, where soundtrack and images combine to create a truly unique viewing experience.
The German theatrical release is set for the first half of 2024.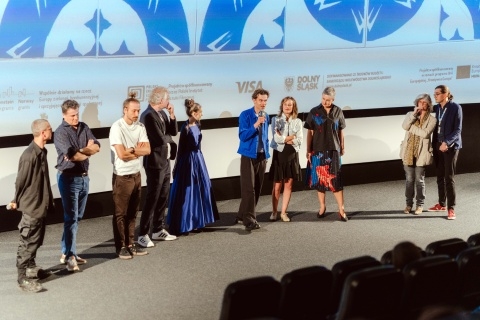 ©Natalia Ratajczyk
Content
Fascinated by a mysterious figure called The Something, a woman loses control of her life and embarks on an adventurous escape, leaving her husband and daughter behind. The Something eventually drives her into the arms of a mysterious women's sect whose sinister machinations are gradually revealed to her.
Back to news