12/07/2022
New: The W-film Catalog 2022 – Explore for free
The new W-film catalog 2022 is here! It includes our entire film repertoire and invites you to discover old and new film gems sorted by themes.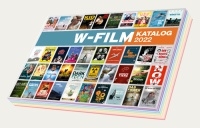 We love special films! This is also reflected in our repertoire, which includes documentaries and feature films from all over the world. Among them are such radical masterpieces as "My Brother's Name is Robert and He's an Idiot" or Jan Bonny's award-winning Nazi drama "Germany. A Winter's Tale". A special focus of the W-film program is on environmental documentaries that raise awareness of the issues of climate and environmental protection, such as "Our Soil is Our Heritage" by Marc Uhlig or Jim Rakete's "NOW," which portrays Generation Greta and young climate activists. In addition to important food for thought, we offer the best entertainment with playful comedies such as Valérie Donzelli's "Notre Dame" or take the audience to the magical panorama of the Lofoten Islands with David Wnendt's feelgood movie "The Sunlit Night".
Here you can download the W-film catalog 2022 free of charge as a PDF or order the print copy free of charge by sending us an e-mail. We hope you enjoy browsing through it!
Here you can subscribe to the W-film newsletter and get informed about your new favorite films.
Back to news