12/04/2021
"A Uncertain Border" will be released on International Missing Children's Day
Child abuse in cyberspace is unfortunately still a sad reality! All the more important is a film like "An Uncertain Border" (Un confine incerto), which approaches the taboo subject sensitively and beyond common clichés. The feature film is already being distributed in Italy by the Cineteca Bologna, one of the most important European cinematheques. From 25 May 2021, "An Uncertain Border" will be released exclusively in the W-film Online Cinema on International Missing Children's Day. To stream (original with subtitles & German dubbed version) go to the film website https://www.wfilm.de/en/an-uncertain-border. Closed cinemas can promote the link via their websites and will receive a share of the revenues from film distributor W-film. As soon as the lockdown ends, the film will also be shown in German cinemas.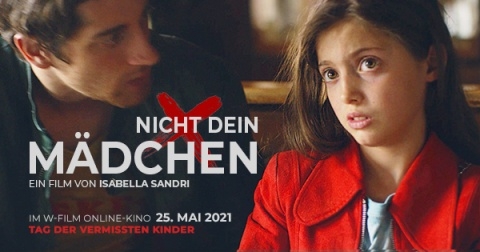 "An Uncertain Border": Gripping story of a child abduction
The feature film "An Uncertain Border" tells the gripping story of a child abduction in the border region between southern Germany and Tyrol. Great cast with Cannes award winner Cosmina Stratan ("Beyond the Hills"), young actress Anna Malfatti in her first cinema role and Moisé Curia. For the script, Italian director Isabella Sandri spent years researching with the Roman police and was intensively advised by the children's rights organisation Save the Children. The result is a fascinating mixture of realistic psychological thriller and sensitive outsider ballad, reminiscent in its poetic power of Kubrick's "Lolita" or Fellini's "La Strada".
Film content
Richi (Moisé Curia) is on the road with a little girl (Anna Malfatti) in a camper van through southern Germany. They have a good time with each other, dress up, dance and laugh a lot. He is a seed salesman, she his little doll. An unusual couple, but happy? When the two stop off at a restaurant, the landlord (Heio von Stetten) becomes sceptical. Something is not right here! What's more, the girl speaks a very rare language: Ladin. Meanwhile, in Rome, police inspector Milia Demetz (Cosmina Stratan) is investigating cyberspace and is hot on the heels of a paedophile network. When she discovers a girl in one of the anonymous videos, she is soon certain: the lasciviously photographed child is Magdalena Senoner, who disappeared in Tyrol at the age of five. But who is behind the camera? When the landlord forwards the footage from his surveillance camera to the police, all the threads come together. Can Milia save little Magdalena?
Further Links
Back to news