26/05/2021
Successful online premiere of "An Uncertain Border"
Important issues deserve a lot of attention! Especially when it comes to child abuse and cybergrooming. We successfully achieved this with the online cinema premiere of the psychological thriller "An Uncertain Border". According to the latest statistics, over 1,500 viewers attended the event, which was broadcast live from the Alten Kino in Ebersberg on 25 May 2021, Missing Children's Day. Afterwards, there was a live discussion with director Isabella Sandri and young actress Anna Malfatti who joined the event from Italy. Sandri spent two years researching with the Roman police for the film and was extensively advised by the children's rights organisation Save the Children.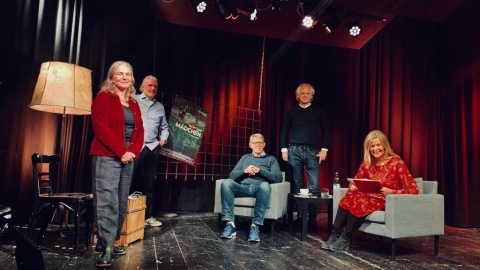 Picture, from left: Online premiere of "An Uncertain Border" with Barbara Lux (Altes Kino Ebersberg), Stephan Winkler (W-film), victim protection expert Arno Helfrich (Munich Police), Arek Gielnik (Indi Film), Verena Ditterich (interpreter) © W-film

Raise awareness of the dangers of child abuse and cybergrooming!
The fact that child abuse is unfortunately a cruel reality was also confirmed by the senior victim protection expert Arno Helfrich from the Munich police, who was a guest of cinema operator Barbara Lux on site together with producer Arek Gielnik and distributor Stephan Winkler. "The lockdown has also increased the danger from perpetrators on the internet," Helfrich said. Therefore, one focus of her police work is to inform parents how they can protect their children. Information and advice on this is also available online, e.g. via polizei-beratung.de or klicksafe.de.

At the end, lead actor Moisé Curia joined in via video message and explained: "There are an incredible number of perpetrators like my character Richie in our society, but we don't realise it and we don't even begin to know who they are".

"An Uncertain Border" starts now as a stream for €8.99 in the W-film online cinema at anuncertainborder.wfilm.de! For a good cause: All cinemas can promote the link via their websites and will in return receive a solidarity share of the revenue from W-film. However, the distributor hopes that the film can soon be shown in cinemas nationwide. Those who would like to support the distributor in the Corona crisis at the time of the film's release have the opportunity to do so via a donation button on the film's website, maedchen.wfilm.de. There you will also soon find the dates for screenings in the cinemas.
Further Links
Back to news