19/04/2022
"THE ART OF SILENCE": Barrier-free German premiere on 4 May in Cologne!
On 4 May, the documentary "The Art of Silence" will celebrate its German premiere at the Odeon cinema in Cologne! Present for the subsequent film discussion will be director Maurizius Staerkle Drux and producer Carl-Ludwig Rettinger. Special guest Christoph Staerkle, father of the director and probably the most famous deaf mime in the world, will also be present – entertainment guaranteed! Special: This is an barrier-free premiere. The film will be shown with subtitles for the deaf and hearing-impaired. In addition, the Q&A afterwards will be translated live into sign language!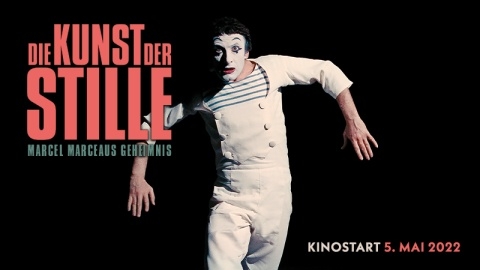 GERMAN PREMIERE OF "THE ART OF SILENCE"
Wednesday, 4 May 2022
Filmstart: 6.30 pm
Odeon Kino | Severinstraße 81 | 50678 Cologne
Guests in the subsequent film discussion:
Director Maurizius Staerkle Drux ("CONCRETE LOVE: The Architecture of the Böhm Family")
Producer Carl-Ludwig Rettinger 
Protagonist and Mime Christoph Staerkle
FILM CONTENT
As the tragicomic clown "Bip", the famous mime Marcel Marceau still inspires people all over the world. Iconic: the white striped shirt, the face made up in white and the battered silk hat with the red flower. The tragic background of his art, however, remained hidden for a long time. His Jewish father was murdered in Auschwitz, whereupon Marceau joined the Résistance. With his cousin Georges Loinger, he smuggled Jewish children across the border into Switzerland. Using gestures and mimes, he taught them not to speak in dangerous situations. Silence meant survival. Influenced by silent film greats like Buster Keaton and Charlie Chaplin, he created a unique art form out of it after the war, which his heirs continue today. 
FURTHER LINKS
Back to news