12/07/2022
"Windstill" Now available on DVD!
Fancy a cinematic journey to South Tyrol? From June 24, "Windstill" will be available on DVD in the W-Film online store as well as in regular stores.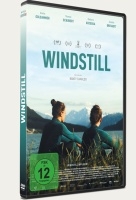 With "Windstill", director Nancy Camaldo and the two Munich producers Sandra and Natalie Hölzel deliver a brilliant feature film debut, for which they were awarded the VFG Young Talent Award in 2022! Against the picturesque backdrop of South Tyrol, they unfold a sister drama that reflects the longings and fears of an entire generation. Acting cinema in its purest form as well as one of the most exciting new cinematic discoveries of Young German Cinema! After its premiere at the Max Ophüls Preis film festival, nominations for "Best Young Actor" followed for Giulia Goldammer and Thomas Schubert.
Back to news