"Vatersland": German premiere on 2 March at Filmforum Köln
On 2 March 2022, "Vatersland" will celebrate its German premiere at the Filmforum in the Museum Ludwig in Cologne! Present at the subsequent film discussion are director Petra Seeger and producers Christine Kiauk and Herbert Schwering from Coin Film as well as the actors Margarita Broich, Felizia Trube, Stella Holzapfel and Matti Schmidt-Schaller.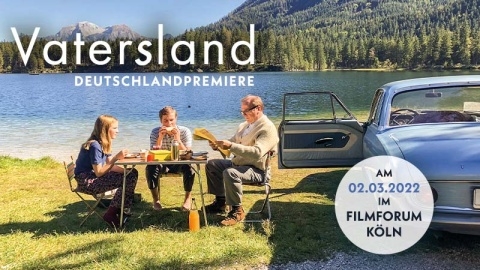 German Premiere of "Vatersland"
Wednesday, 2 March 2022
Photo call: 7.30pm  | Film begins at: 8pm
Filmforum im Museum Ludwig | Bischofsgartenstr. 1 | 50667 Cologne
Guests in the subsequent film discussion:
Director Petra Seeger
Producer Christine Kiauk (Coin Film)
Producer Herbert Schwering (Coin Film)
Cast member Margarita Broich
Cast member Felizia Trube
Cast member Stella Holzapfel
Cast member Matti Schmidt-Schaller
After her award-winning documentary "In Search of Memory" about Nobel Prize laureate Eric Kandel, Petra Seeger serves us unique memoir cinema: In her first feature film, she processes her own past as a girl growing up in a male-dominated post-war society – perceptive, feminist and at the same time immensely entertaining and humorous. Unusually, the family photos and 16mm film footage used in the film come from the director's private archive. "Vatersland" will be released in cinemas nationwide from 10 March 2022 to coincide with International Women's Day.
Further Links