News
10/01/2022
The documentary "Youth Outcry" by director Kathrin Pitterling is available as VOD and on DVD in the W-film Online Shop and in regular stores from 25 March 2022! The unique portrait about Fridays for Future provided a breath of fresh air in the climate discourse just in time for the Climate Conference 2021 (COP 26): On 28 October 2021, the award-winning ARD production was released exclusively in cinemas as a Director's Cut. In it, Kathrin Pitterling lets us get up close to the young activists, including familiar faces such as Luisa Neubauer and Clara Mayer.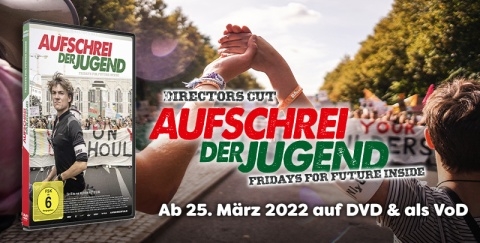 Complete article
17/12/2021
Unique memory cinema: "Vatersland" will be released in cinemas nationwide from 10 March 2022 – just in time for International Women's Day. After her award-winning documentary "In Search of Memory" about Nobel Prize winner Eric Kandel, director Petra Seeger processes her own past as a girl growing up in a male-dominated post-war society in her first feature film – perceptive, feminist and at the same time immensely entertaining and humorous. Unusual: The family photos and 16mm film footage used in the film come from the director's private archive.
Complete article
13/12/2021
The climate documentary "NOW" by Jim Rakete is available as VOD and on DVD in the W-film Online Shop and in regular stores from 25 February 2022! In his engaging cinematic debut, the famous cult photographer meets Generation Greta. Six young climate activists have their say, including Luisa Neubauer (Fridays for Future), Felix Finkbeiner (Plant for the Planet) and Nike Mahlhaus (Ende Gelände). Why did they become activists? What is at stake? The film was released nationwide in cinemas on 26 August 2021.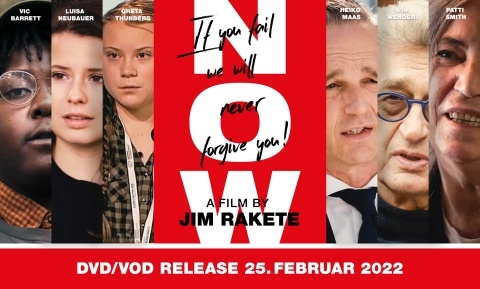 Complete article
03/12/2021
There are now many great offers in our Online Shop in the DVD, Blu-ray and VOD section: Just in time for Christmas! Including bestsellers such as "The Reformer. Zwingli: A Life's Portrait", the adorable children's film "Just One Day", the controversial investigative documentary "The Fever: The Fight Against Malaria", the documentary homage to Bollywood cinema "Original Copy" and much, much more!

Complete article
02/12/2021
On 1 December 2021, the fabulous comedy "Notre Dame" celebrated its German premiere as part of the French Film Week at Cinema Paris in Berlin. Cast and crew were unable to attend in person due to the current difficult Corona situation, but the film created an upbeat atmosphere in the well-attended cinema hall. In "Notre Dame", director Valérie Donzelli ("Declaration of War") also slips into the leading role of a single mother and Parisian architect between career, family and love! She mixes the romantic turbulence with unrealistic outliers à la "Amélie" and charming wit.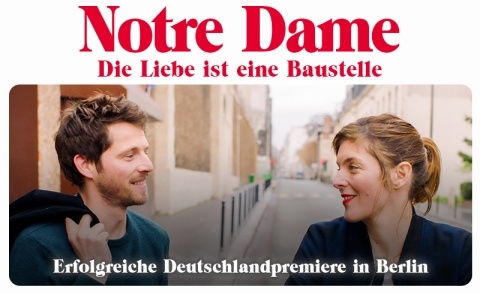 Complete article